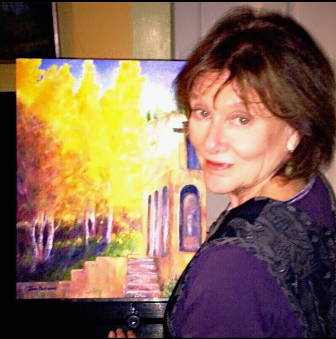 Paper Collage, Oils, Encaustics and Cold Wax Paintings
My art expresses the world as I experience it: rich in luminous color and vibrant light, a world of mood and mystery, often a step beyond everyday reality. I am excited to have begun painting the lush landscapes of Oregon where I spent my childhood.
Regardless of medium, all of my art is in the colorist style, exploring the interplay of intense hue and light. My most recent works are semi-abstract landscapes and cityscapes in intricate layers of collage, oil, and cold wax.
I have had a career as a psychotherapist and have coached Leadership Development Programs. I have studied art with Stefan Bauman, Chuck Prudhomme and other prominent artists.  
I have shown my art in several solo shows as well as juried group shows. My work is carried in two Northern California galleries. My husband, novelist Charlie Price, and I have recently moved to McMinnville, Oregon from our home on a white-water river by Mt. Shasta, California.
---
---
Examples of Joan Pechanec's Artwork