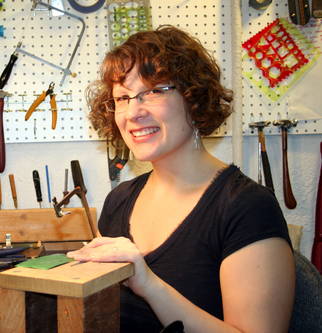 Metal Sculpture and Jewelry
The metal working process is very satisfying to me. As I respond to the metal, the piece will evolve and come into focus. I seek a balance between craftsmanship, composition and artistic expression.
I first studied metalsmithing at the L.A. County High School for the Arts. I went on to earn a B. A. degree at Humboldt State University. I studied with David LaPlantz who introduced me to anodizing aluminum. Electrical current is run through a sheet of aluminum while submerged in an acid solution. This stimulates a chemical reaction that forms an oxide layer on the surface making it stronger and more abrasion-resistant. It has tiny pores which can absorb dye. I create elegant designs by combining luminous dyes. I am a member of the Creative Metal Arts Guild and produce my own line of Iightweight and comfortable jewery and small sculpture.
---
---
Examples of Mandy Allen's Artwork